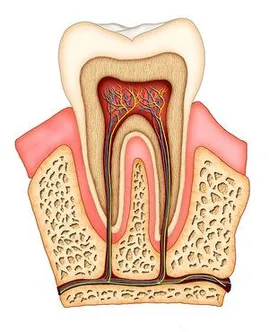 Information on Root Canals In Guelph, ON
If there is an internal issue with a tooth, root canal therapy will likely be the solution recommended by your dentist. Dental professionals at Central Guelph Dentistry in Guelph, ON consider root canals to be a highly effective line of defense to protect your dental health and help you avoid losing a diseased tooth. Root canals help patients avoid the embarrassment and potential dental issues associated with missing teeth. Find out how you can get relief from your tooth pain by seeing a dentist for a root canal treatment.


Root Canal Benefits
A root canal is primarily beneficial because it eliminates the pain that you may be experiencing from a toothache.
Other benefits include:

-The tooth is thoroughly cleaned and filled to protect the root from future damage.
-The crown covering is very attractive (white, smooth, and resilient) and will last for up to 20 years with good care.
-It helps stop an infection from spreading to other teeth or other parts of the body.
-You keep your original tooth and do not have to pay for an expensive replacement.


How the Procedure Is Completed
An average root canal procedure takes up to a couple of hours. In an advanced case, it may require more than one appointment, but that's rare. The area is numbed for your comfort so that the dentist can access the diseased tissue with dental tools. After the bad tissue is removed and the inside of the tooth is disinfected, a filling material is added. In a follow-up appointment, a permanent crown will be placed to protect the tooth.

Don't wait until your dental pain becomes unbearable to see a dentist about a root canal.
Call Central Guelph Dentistry in Guelph, ON today at (519) 836-2420 to schedule an appointment.